NHS Long Term Plan - Summary of findings for North Central London
The NHS Long Term Plan, a ten-year plan created by NHS England, sets out a vision to make sure that health services are fit for purpose in the future. A significant part of the plan is around preventative action against illness and disease.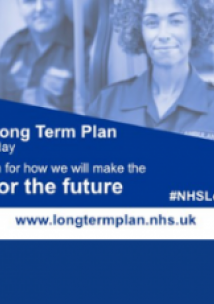 Summary: 
During April and May 2019 Healthwatch Barnet, Camden, Enfield, Haringey and Islington, using various approaches and surveys, engaged with over 1,000 residents about their experiences of health and care services and the potential future developments as outlined in the NHS Long Term Plan. The areas of health and care services included Cardiovascular disease, High blood pressure, Cholesterol, Diabetes and Dementia, with Barnet focussing on Cancer screening and Learning disabilities, Autism and other disabilities.
During April and May 2019 we engaged 145 local residents in discussions about their experiences of health and care services and where investments should be made.
Key findings from Barnet:
With 85% of votes, local people indicated that more investment is needed in: 
professionals that listen to me when I speak to them about my concerns.
having the knowledge to help me do what I can to prevent ill health.
easy access to appointments .
for every interaction with health and care services to count; my time is valued.
12% of people approached by us reported that more integrated, personalised care would help them.
There was a recognition that breast cancer and cervical cancer screening receive a lot of publicity, but that bowel and prostate cancers screening is not as widely advertised or understood.
People with Learning Disabilities in Barnet hardly receive information in Easy Read or using a language they can understand.

Not all the participants with Learning Disabilities needs had been offered double appointments with their GP to discuss their healthcare needs. Only four out of the eleven knew what an annual health check was and only two had been offered one.