Long COVID Community Event: a report
A report by our volunteer Alaa Al-Ansari on our recent special Long COVID event, organised with Barnet COVID-19 Health Champions.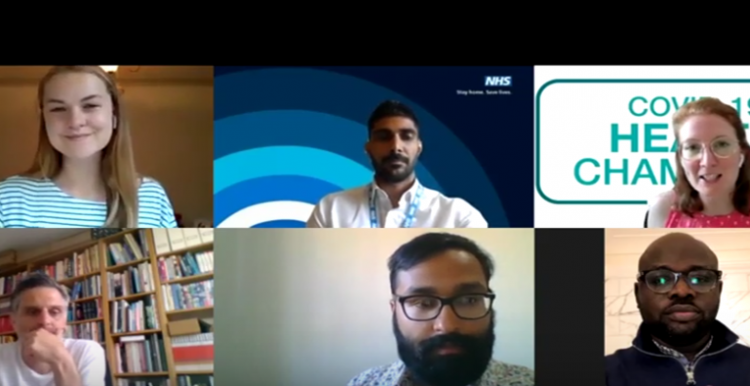 As part of our spotlight on Long COVID, we held a public event with local health specialists, including: Dr Nick Dattani, GP Partner and Clinicial Lead NCL CCG; Dan Windross, Assistant Director, Integration NCL CCG; and Kola Akinlabi, AHP Clinical Lead Long COVID, Clinical Specialist Respiratory Physiotherapist – Barnet CLCH NHS Trust.
Here is a summary of the event. You can watch the event in full on the Healthwatch Barnet YouTube channel.
If you have Long COVID or live with someone who does, please complete our survey.
Dr Nick Dattani began by defining Long COVID for us. In Post COVID Syndrome, its official title, some people experience ongoing symptoms well after their initial COVID-19 infection. Long COVID is a multi-system condition with a wide range of symptoms which can span from fatigue, breathlessness, a cough, chest pain, heart palpitations, a fever, a headache, muscle pain, gastroenterological problems and loss of taste and smell. Some people can get one or lots of these symptoms or all of them. Many people with Long COVID can have a range of psychological problems making them feel quite low or depressed or anxious. There can even be post-traumatic stress disorder or PTSD (with some people describing this as brain fog) and sufferers might feel that they can't focus as well as they used to, which can have a big social impact. The symptoms can fluctuate or change over time which also results in a significant impact on people's ability to carry out day to day activities including work.
He broke it down further for us: if a person has had COVID in the last four weeks that is acute COVID-19; if they still have symptoms up to 12 weeks after contracting the virus, it's called ongoing symptomatic COVID-19. It's only called post-COVID syndrome or Long COVID when signs or symptoms have developed during or after the infection and when they continue for more than 12 weeks and are not explained by an alternative diagnosis.
For those with ongoing symptoms, a chest examination may be done or even a chest x-ray to check for an ongoing respiratory infection in the lungs.  A patient recovering from COVID could get post-COVID pneumonia.
Sufferers may be referred to a multi-disciplinary team who can tailor support and rehabilitation to personal needs and an individualised care plan. With the help of a GP, patients with mild symptoms can often self-manage Long COVID and get better by themselves.
The Your COVID Recovery website which is free has lots of information and advice to help people recover from COVID-19 and manage symptoms. It provides a personalised package of modules covering topics such as fatigue, breathlessness management and nutritional advice.
Kola Akinlabi then talked about Long COVID in Barnet. Those exhibiting the symptoms described by Dr Nick Dattani should first contact their GP. If they have recently been discharged from hospital, the hospital team will also do a post-COVID follow up to see if there is a need to go back to hospital for more investigations.
As soon the doctors are happy with that there is no chest pain, unexplained breathlessness, dizziness, palpitations, they can then refer the patient onto community service then to Kola Akinlabi and his team.
Fatigue happens in about 79-80% of patients with Long COVID with many people unable to return to work because of fatigue and unable even to do daily such as bathing, looking after children.
There are clinical psychologists within Kola's team and behavioural psychology therapy is available too. Patients with voice issues are referred to the speech and language therapists.
The second part of this event was a Q&A session.
You asked: Where do children fit into this or is this just about adults?
Kola Akinlabi answered that in the community at the moment for his service they only see adults and are not commissioned to see children.
Dr Nick Dattani added that at present, most children that have had a mild disease make a really good recovery. For children with specific symptoms following Long COVID then the existing paediatric referral pathway will be used. It will not necessarily be the same tests that will be given to an adult.
You asked: Could you be under a local GP as well as UCLH?
Dr Nick Dattani answered that treatment can be given by local services and while the patient is receiving care at UCLH.
You asked: What level of proof does an approved medical practitioner want and are they given any guidance by their professional bodies?
Kola Akinlabi explained that the vocational rehab specialist team have guidance around work and returning to work, and access to Department of Health guidelines. Patients can get in touch and be put through to a vocational rehab specialist who deals regarding returning to work and finance.
You asked: What post code do you need to be able to access the Long COVID support within the area?
Dr Nick Dattani said that as long as the patient is registered with a GP in Barnet, Camden, Enfield, Islington or Haringey then they can access the NCL Long COVID pathway.
You asked: Do all GPs have access to the information about Long COVID treatment options and the referral pathway? What happens if all the tests come back negative in primary care and what are the next steps?
Dr Nick Dattani answered the first question by explaining that all GPs should be able to access all the resources for post-COVID syndrome or Long COVID and GPs share this regularly through GP bulletins and through webinars, though it's hard to keep up to date with the amount of new information arriving. Checking the Your COVID Recovery website is always helpful and looking at what resources are available on there.
In answer to the next part of the question, Dr Nick Dattani said when referred to Kola's team, they can discuss symptoms with you and provide support which could lead to physiotherapy, speech and language therapy or lots of different services. Even if blood tests come back normal it does not mean there is no Long COVID.
Kola Akinlabi added that its common to have normal blood tests and  even imaging chest x-rays, a CT or even MRI can be normal. When a patient comes to his team for therapy assessment there are various questionnaires to help identify the symptoms that you might be having, for example it can pick up when people are struggling with muscle strength in their legs. They recognise that with Long COVID they have to listen to the patient very closely, and most of the things they are doing now have been learned from working with patients.
You asked: Have patients been involved in the development of the pathways i.e. the NCL Long COVID clinical pathway?
Dan Windross mentioned an organisation called LongCovidSOS who have representatives who sit on the North Central London Steering Group. There is a steering group chaired by clinicians but involving representatives from all the organisations supporting people with Long COVID and patients themselves. They are also working with the Healthwatch teams in each borough.
Having all the North Central London Healthwatch organisations working together is providing really important feedback on the pathway.
You asked: What can I do to help myself in terms of managing my symptoms?
Kola Akinlabi referred again to the LongCovidSOS and Your COVID Recovery websites which have a lot of resources which can help and the option of having a chat with specialists.
You asked: How are patients from diverse communities being supported and educated in relation to Long COVID?
Kola Akinlabi says that in Barnet his team have leaflets and resources to in various languages and that there are link workers and interpreters for patients for whom English is not their first language. For patients who are housebound, there is a home service for a Long COVID assessment as an option. They are working to make it as inclusive as possible.
Dan Windross added "We know that COVID has disproportionally affected deprived communities in North Central London and we're very much aware of that. We're closely monitoring the rates of COVID and Long COVID diagnosis and we've got a few projects starting shortly across North Central London to try and support people from communities where we think we may be under diagnosing. Again, we are really keen to work with Healthwatch Barnet and other organisations that might help us ensure we're reaching as many people as possible affected by Long COVID."
You asked: Are there plans in place to improve referral times?
Dan Windross said that nationally NHS England have set a six week average time for people to get the onward support after initially seeing their GP. Though we're not there yet, he is working with finance and workforce colleagues to try and understand what is needed to be done to get there.
You asked: Are you aware of therapeutic interventions that have been successful?
Kola Akinlabi suggested that if there is ever any reason to look into things like that then having a chat with the specialist Long COVID clinic at UCLH who are doing a lot of trials would could help.
It was also mentioned that NHS England are looking into this as well.
You asked: A lot of people with Long COVID seem to have a problem with gastric reflux, has there been a study connecting the two?
Kola Akinlabi said he has been getting people like that in his clinic and they have been referred to gastroenterologists.  Some of the time the investigations come back negative and it will be that support care is provided, so basic medication for acid reflux and dietary management advice.
You asked: Would local GPs recommend alternative holistic therapies such as yoga therapy for symptoms whilst waiting to be seen by UCLH?
Dr Nick Dattani emphasised the fact that it's really important to exercise and look after ourselves. From what we know, exercise is a treatment for COVID or Long COVID and exercise, yoga or meditation will improve functioning, resilience and resistance along with brain function. He advises pacing yourself and setting goals that are realistic, e.g. starting with 10 minutes a day and building up to one hour a day over weeks and months.
You asked: Have there been any care homes who have referred their residents who might have had Long COVID symptoms and can they access the home assessment service that has been mentioned?
Kola Akinlabi answered that yes everyone in Barnet is looked after, from patients who can come to the clinic to patient who are housebound or in a care home or a residential home. It's important to increase access and break the barrier of inequality.
Dan Windross added that from what has been seen so far the emerging evidence shows that Long COVID seems less prevalent in children but it also appears to be less prevalent in older adults. From the complexity of the symptoms, it could be a harder differential diagnosis to make in older adults and the data we have to date, backed up by the national picture, seems to indicate that it's more likely to affect people between the ages of 35 to 55.
You asked: If a patient has a lot of muscle pain and normal pain relief does not work, is there any pain management relief available?
Dr Nick Dattani answered that it depends on where the pain is because it could be that it's muscular lethal pain in a joint, stiffness or in the back. Different types of pain relief are used for different parts of the body. For post COVID syndrome the commonest is muscle or joint pain, which can be quite debilitating and it's not fully understood why people get it.
You asked: Does the approach differ for someone in the absence of a positive COVID test or antibodies, so referring back to when the tests were unavailable right at the beginning of the pandemic, and does the absence of a formal diagnosis on the patient's medical record make a difference and how important is it that we have a record of this in the future?
Dr Nick Dattani said that it's important to believe patients, whether they were tested at the time or they have antibodies because antibodies only stay positive for a certain length of time. There are a lot of trials saying three months, some people saying six months or a year, but it's certainly not been thought to last longer that.
Thank you again to the panel, to the Barnet Health Champions who partnered with us and to our audience.
Useful Resources
Here are the resources the panel shared at the event:
You can watch the event in full over on the Healthwatch Barnet YouTube channel.