Our Q&A with Barnet's Mental Health Trust: a report
In a recent public event, we invited Barnet, Enfield and Haringey Mental Health Trust, who provide Barnet's NHS mental health services, to answer your questions in an online Q&A.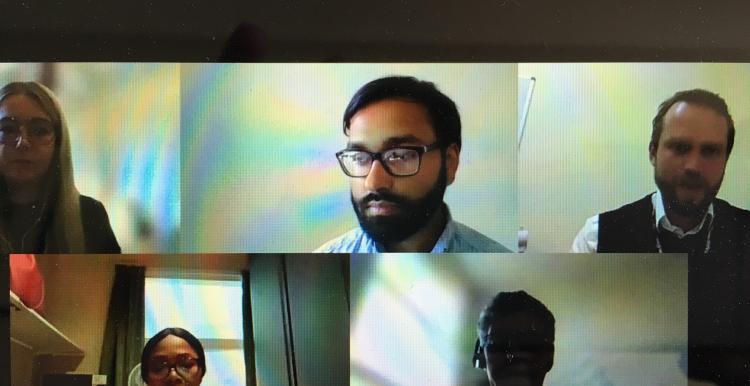 Thank you to everyone who contributed questions for our session with BEH Mental Health Trust, and to Barry Day, Deputy Chief Operating Officer; Sophie Williams, Head of Patient Experience; Gareth Jarvis, Clinical Director; and Kathy Swanzy-Derben, Head of Nursing, for providing the answers.
Here's a quick summary of the session, and you can watch the event in full on our YouTube channel.
You asked: what preparations have been made for the anticipated increase in poor mental health following the pandemic?
While Cathy agreed that COVID has impacted considerably on people's mental health and wellbeing, Barry had good news: the government has committed financial increases to mental health services over the next three years.
Gareth revealed that Barnet will receive £1.8million this year, with more to come.  While this equates to a significant expansion of the work the Trust will be able to do within the Borough, he will still be lobbying for more.
You asked: What plans are there to improve the patient experience?
Sophie explained there's lots going on in this area with a new engagement strategy being designed by and for service users. "We want service users to be involved in everything we do", she said and invited everyone watching to apply to the Experts by Experience scheme.  The application process is very simple, find out more here, and contact the local team by phone 020 8359 4366 or email.
"We want service users to be the centre of care" added Cathy, "Close partnership is the ethos for our service delivery."
You asked: What are the latest trends in mental health services?
For Barry it's being more proactive, contacting and helping people sooner so that they don't end up in hospital; making sure all our services are close to them, their homes and their loved ones.
For Gareth, the hot topic of the moment in mental health is inequality.  "We know that there are different outcomes depending on which communities and ethnicities you come from and that's not OK. If there's one thing we're really focussed on as a trust, it's how do we do things differently so that we're really engaging with all the different communities that make up our borough. And so that we can build up trust so that people come to us early for help."
You asked: What changes in services will remain even after all the restrictions are lifted?
Increased use of technology is here to stay, says Barry. While he recognises that technology isn't the answer for everybody it has allowed BEH to do some quite innovative and creative work.
Sophie has had mixed feedback too – some people are really keen to keep to virtual appointments, others want to return to face to face. The future offer will be a blended approach.
You asked: what mental health support is available during the weekend?
Gareth admitted that there are different levels of support available on weekdays compared to weekends, but there is a 24 hour, 7 day a week, crisis and home treatment team always available for anyone in crisis. Historically those teams have not been well-funded, but more investment has come in the last year or two and we are seeing an expansion in what they can offer.  They are also doing innovative work across BEH, particularly in Barnet, around repurposing crisis prevention houses (formerly recovery houses). The Trust is continually reviewing the model for people in crisis and working towards one that is more peer led, more recovery focused, with a much more active engagement of someone whilst they're in crisis. This is seen as a really important area and a lot of investment is going in.
Barry reinforced this and commented on how important feedback from the public and service users is, "Because if we don't hear about it, we won't be able to do anything about it."
You asked: Why are people offered access to services if they are in a crisis but then expected to wait for months for an appointment with no therapy offered in-between?
Gareth says the Trust is particularly focused on how to reduce waiting lists in first place, but also on how to prevent them happening at all.  Work has already been done putting in extra resources to reduce waiting times, but they're also looking at what else can be done for someone who can't get help right away. This might involve working with voluntary sector colleagues, "It's definitely not just that you're on a waiting list and you wait there until we're ready."
Barry added that the latest report shows nobody is waiting longer than 13 weeks for appointments and while 13 weeks is still a long time, it was 52 weeks when he joined. He reiterated that there are plans to increase spending to address this issue.
You asked: What is being done to work more closely with other services, so I don't have to repeat my story as I see different clinicians?
There's a large project across North Central London called the Health Inform Exchange (HIE) aimed at building collaboration all the way across Enfield, Haringey, Camden, Islington, and all acute hospitals, social care providers, community service providers and mental health providers are signed up. The ambition is to get to a point in the next two years where all these systems talk to each another so that patient information is shared.
Gareth is conscious that people have to repeat themselves too much within the Trust's own services and wants to build more continuity into care, "That really is at the heart of all the transformation proposals being put forward, how we're trying to shake up the services for the future. As new money comes in, the emphasis will be on doing new things with the investment – focussing on peer workers, community engagement, partnership work with the voluntary sector, bringing care closer; a lot will be about reaching out earlier and focussing on prevention where possible. Instead of using secondary mental health services the focus will be on social determinants of mental health, with more thinking outside the box about how we engage with people. It's a really exciting moment to shake up services around mental health and there are lots of opportunities for people to shape this." He brought the session to a conclusion with an invitation to the audience, and everyone in Barnet, "Do stay engaged and help us shape the future."
"Do stay engaged and help us shape the future."