Healthwatch Barnet Annual Report 2021 - 2022
2021/22 has been a tremendous year of growth in supporting local residents for Healthwatch Barnet. Read our Annual Report to find out how we have worked to champion people's voices and support improvements in local services.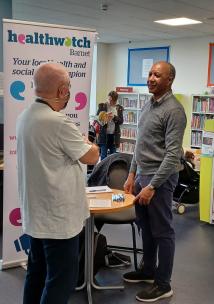 About us
We are the independent champion for people who use health and social care services in Barnet.
We are here to find out what matters to people, and help make sure their views shape the support they need. We also help people find the information they need about local services.
How Healthwatch Barnet has supported Barnet residents:
We saw a 183% increase in people engaging with us for help and advice this year
1,128 people shared their experiences of health and social care services with us
11,758 people came to us for advice and information directly and via our website
We published 8 reports about improvements people would like to see in health and social care services