Introducing Dementia Club UK
Former Mayor of Barnet, Lisa Rutter introduces Dementia Club UK, the charity she founded in 2015 to help those living with Alzheimer's disease and their carers.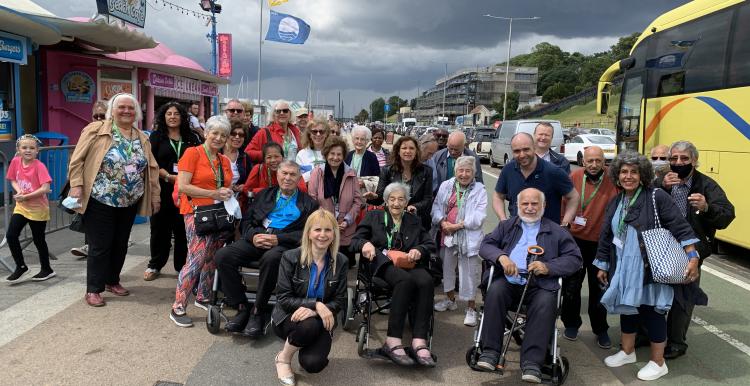 When Lisa Rutter's mum was diagnosed with Alzheimer's disease in 2010, Lisa soon realised that there was little information for families and carers explaining how to deal with the challenges. Lisa decided she wanted to learn more about this terrible disease and set up a dementia club at Finchley Memorial Hospital in 2013. Demand grew for more dementia clubs and Lisa went on to open another twelve in various locations in the Borough of Barnet plus one in Camden, finally creating a Dementia Club UK Model. Research by Middlesex University shows Dementia Clubs to have a positive impact on those living with dementia, their carers and those who have recently lost someone with dementia.  
Everyone participates and everyone always leaves with a smile.
So what happens at a Dementia Club? Sessions run for two hours, from 2pm to 4pm. "It provides respite for those living with dementia and the carers can relax, socialise and make friends with other carers whilst enjoying tea/coffee and lovely cakes", says Lisa.
She provides quizzes, painting, singing, Bingo, indoor golf, table tennis, bowls, skittles, board games, chair exercises with professional instructors and some dancing for those who like a bit more challenge and music entertainers. Outings are also arranged and, "everyone participates and everyone always leaves with a smile."
When the Covid -19 pandemic started, Lisa had to suspend all the dementia clubs in March 2020. This was devastating for members as Dementia Club UK is their lifeline. Lisa kept in contact with members during the pandemic by phone and email and took food parcels to some of the most vulnerable members who had no one to help them.
Aware of how depressed and isolated members were feeling, Lisa started to run four Zoom sessions every week. Each Zoom session was two hours and included quizzes, chair exercises, music entertainment and Bingo. Lisa reports that people were joining from all around the country. One of the sessions, held every week on Tuesday evenings, was for carers. Running from 7pm to 8.30pm, it proved very popular.
Now that restrictions have been slowly lifting, people are desperate to get back to some normality. Dementia Club UK has re-opened a few dementia clubs including the popular club at Finchley Memorial Hospital.
"Our new 2022 programme has 6 dementia clubs opened in various venues in Barnet and continues to keep one afternoon zoom session every week on Tuesday and also the evening carers group session," says Lisa.
The carers group sessions are very valuable to the carers sometimes featuring speakers to talk about products and other topics which are helpful. One of the Dementia Club Trustees, a doctor, also joins the sessions to answer any medical concerns raised by the carers.
Whilst there is still no cure for dementia, it is important to raise awareness to stamp out any stigma and deliver a better understanding of dementia.
Dementia Club UK is also now offering training to organisations about dementia. Lisa says, "Whilst there is still no cure for dementia, it is important to raise awareness to stamp out any stigma about dementia and deliver a better understanding."
You can visit the Dementia Club UK website for more information and download information about dementia club sessions and contact details. Volunteers are always welcome too.