Advice on vaccinations for pregnant women
Advice from Public Health England for all women of childbearing age, those pregnant or breastfeeding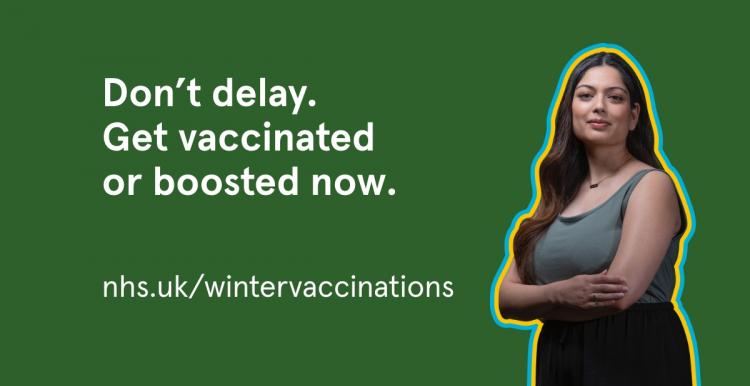 If you are pregnant and have not yet had your first, second, third or booster dose of a COVID-19 vaccine, you are urged to get your jab as soon as possible.
The latest data from the UK Health Security Agency (UKHSA) shows COVID-19 vaccinations provide strong protection for pregnant women against the virus. It also shows the vaccines are safe for pregnant women, with similar birth outcomes for those who had the vaccine and those who had not.
You cannot catch COVID-19 from the vaccines and cannot pass it to your baby through your breast milk.
Those trying to become pregnant do not need to wait to conceive after vaccination and there is no evidence to suggest that COVID-19 vaccines affect fertility.
Gill Walton, Chief Executive and General Secretary of the Royal College of Midwives, says, "There is overwhelming evidence that the COVID vaccine is safe for pregnant women and for their babies – and that it's the best way to keep them safe from harm. Sadly, there are too many pregnant women being admitted to hospital with COVID, and 96.3% of them haven't been vaccinated."
She adds, "The consequences of COVID when you are pregnant are clear and potentially devastating, from increased possibility of premature birth and admission to intensive care to a heightened risk of stillbirth. We know that pregnant women want to do everything they can to protect their baby, which is why midwives want to reassure them that vaccination is the best thing they can do."
Still worried about taking the COVID-19 vaccine while thinking of conceiving, pregnant, or breastfeeding? 
You should speak to your doctor about the best option for you. If you have been unable to get support from your doctor, contact us and we will send you the advice and information you need to make an informed decision.
Is COVID-19 disease serious in pregnancy?
Although the overall risk from COVID-19 disease in pregnant women and their new babies is low, in later pregnancy some women may become seriously unwell and need hospital treatment.
Pregnant women with COVID-19 have a higher risk of intensive care admission than women of the same age who are not pregnant. Women with COVID-19 disease are also 2 to 3 times more likely to have their babies early than women without COVID-19.
Pregnant women with underlying clinical conditions are at even higher risk of suffering serious complications from COVID-19.
Risk factors for pregnant women
You are at more risk from COVID-19 than women of the same age who are not pregnant if you have underlying medical conditions such as:
immune problems
diabetes
high blood pressure
heart disease
asthma
Or if you are:
overweight
over the age 35
in your third trimester of pregnancy (over 28 weeks)
of black and Asian minority ethnic background
Getting pregnant
There is no need to avoid pregnancy after COVID-19 vaccination. There is no evidence that COVID-19 vaccines have any effect on fertility or your chances of becoming pregnant.
If you are pregnant
COVID-19 vaccines offer pregnant women the best protection against COVID-19 disease which can be serious in later pregnancy for some women.
The first dose of COVID-19 vaccine will give you good protection. You need the second dose to get longer lasting protection. You do not need to delay this second dose.
Breastfeeding
The benefits of breastfeeding are well-known.
The JCVI has recommended that the vaccines can be received whilst breastfeeding. This is in line with recommendations from the USA and the World Health Organization.
Vaccine side effects
Like all medicines, vaccines can cause common side effects. It may be helpful to make sure you know what to expect after you have the vaccine, especially if you have had your baby or have other children to look after.
Please read the What to expect after your COVID vaccination leaflet.
The Royal College of Obstetricians and Gynaecologists (RCOG) and Royal College of Midwives (RCM) have a decision guide and other information you may find helpful COVID-19 vaccines and pregnancy: Guidance for pregnant women
If you would like to discuss COVID-19 vaccination please contact your midwife, doctor, or nurse.
Download the advice from Public Health England
New COVID-19 vaccine advice line for those who are pregnant
UCLH are launching a new telephone service to answer questions or discuss concerns about the COVID-19 vaccine with those who are pregnant, planning to get pregnant or breastfeeding. The service is open to people across North Central London; you do not need to be UCLH patients. 
Pregnancy and COVID-19 vaccination
Are you pregnant, planning to get pregnant or breastfeeding?
If you have questions or concerns about getting your COVID-19 vaccinations and would like to talk to someone, your midwife can refer you to the COVID-19 vaccination team.
You can also email your full name, email address, best phone contact and questions to uclh.clinicalvaccleads@nhs.net or call 07526972287 (you may have to leave a message and someone will call back at the earliest opportunity).
Please note: this service is only to address COVID-19 related questions you may have. All maternity related questions should be directed to your midwife or obstetrician.