Need urgent medical help but not sure what to do? NHS 111 can help
If you or your child has an urgent but not-life-threatening medical need, make sure you visit NHS 111 online or dial 111 first rather than going straight to A&E.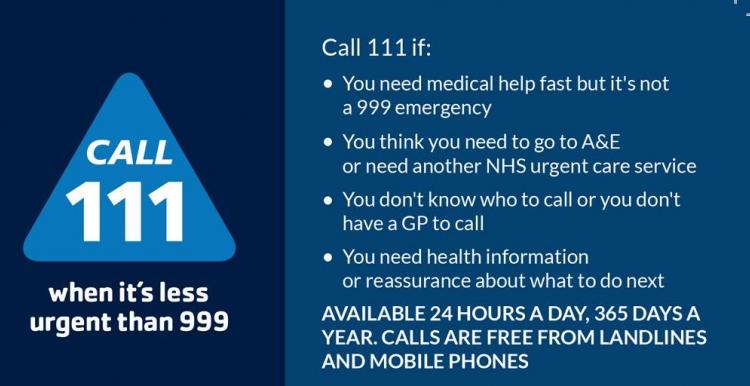 The NHS 111 phone line and NHS 111 online make it easier for you to access local NHS healthcare services in England. NHS 111 is available 24 hours a day, 365 days a year. Calls are free from landlines and mobile phones.
Dial 111 or visit 111.nhs.uk if:
you need medical help fast but it's not a 999 emergency
you think you need to go to A&E or need another NHS urgent care service
you don't know who to call or you don't have a GP to call
you need health information or reassurance about what to do next
Using NHS 111 gives you access to a team of fully trained advisers and clinical healthcare professionals including nurses and GPs. The service can also direct you to urgent treatment centres/walk in centres, GPs, pharmacies, emergency dental services or other more appropriate local services. If necessary, an arrival slot can be booked for you to avoid long waits and overcrowding in waiting areas.  NHS 111 online can also tell you where to get help for your symptoms, how to find general health information and advice, where to get emergency supplies of your prescribed medicines and how to get a repeat prescription.
If you or your loved one have a life-threatening illness or injury then you should always dial 999.
If you're deaf and want to use the phone service, you can contact the NHS 111 British Sign Language interpreter service
You can also call 18001 111 on a textphone.
For help in other languages, dial 111 and ask for an interpreter.
Depending on the situation, when you contact NHS 111, you will:
find out what local service can help you
be connected to a nurse, emergency dentist, pharmacist or GP
get a face-to-face appointment if you need one
be given an arrival time if you need to go to A&E – this might mean you spend less time in A&E
be told how to get any medicine you need
get self-care advice.