Information about the Coronavirus Vaccine
The Coronavirus vaccine is safe and effective. It gives you the best protection against coronavirus. This article includes the latest information about the vaccine.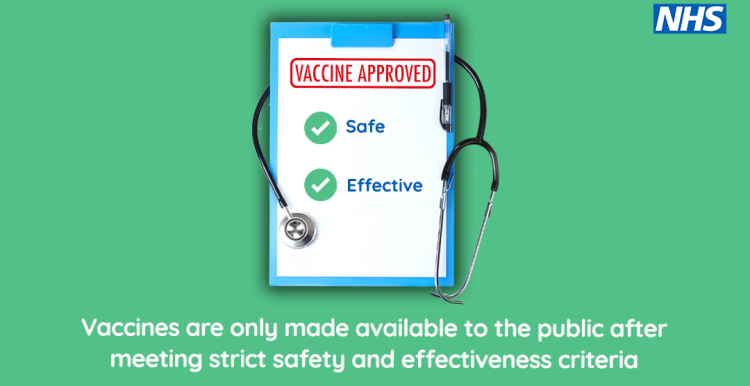 Who can get the Coronavirus vaccine?
The NHS is currently offering the Coronavirus vaccine to people most at risk from Coronavirus.
The vaccine is being offered in some hospitals and hundreds of local vaccination centres run by GPs. Plus, this week the NHS is opening seven NHS Vaccination Centres to innoculate people aged 80 and over, along with health and care staff.
The Excel Centre in London is opening as a Vaccination Centre this week.
The order in which people will be offered the vaccine is based on advice from the Joint Committee on Vaccination and Immunisation (JCVI). Read the latest advice on the priority groups for the Coronavirus vaccination.
How to get a Coronavirus vaccine
If you have received a letter calling you for your vaccination, you can use this service to book a coronavirus (COVID-19) vaccination.
You will need to:
have 2 doses of the coronavirus vaccination at 2 appointments
book both appointments at the same time
get the 2nd dose 11 to 12 weeks after getting your 1st dose
Who can use this service
You can only use this service if you have received a letter inviting you to book your vaccination appointments.
The vaccination is currently being offered to people aged 80 or over.
Letters are being sent out every week – you might not get your letter straight away.
You also need to be registered with a GP surgery in England. You can register with a GP if you do not have one.
You can use this service for someone else.
What happens at your appointment
Your appointment should take 30 to 45 minutes.
This will include:
being checked in using your booking reference numbers
answering questions about your medical history
having the vaccination
You will be asked to wait for around 15 minutes after having the vaccination. This is in the unlikely event you have a reaction to the vaccine.
Find out more about the vaccine and if you would like to share your experiences, send us an email.