A Q&A with your local Mental Health Trust
An online Q&A with your local NHS Mental Health Trust Monday 19 April 3.00 pm – 4.00 pm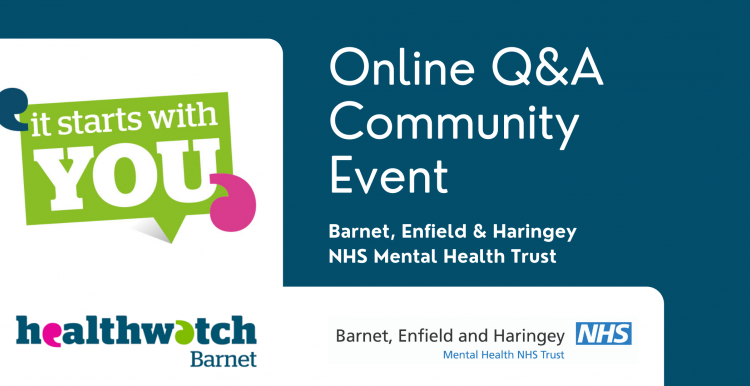 Do you have questions on local mental health services?
Join our special online Q&A Monday 19th April 3.00pm – 4.00pm with Barnet, Enfield and Haringey Mental Health Trust, who provide Barnet's NHS mental health services.
Healthwatch Barnet have organised this webinar for Barnet residents to engage directly with the borough's senior management team for mental health. Taking part are Barry Day, Deputy Chief Operating Officer and Sophie Williams, Head of Patient Experience. The event is an opportunity to hear how they are developing their services and for you to share your feedback.
How to book your place:
You can submit questions as you log on to book your place on Eventbrite or email them to info@healthwatchbarnet.co.uk. All questions must be submitted in advance and before 5.00pm, Thursday 15th April latest. We will be unable to take and answer questions live on the day.
We look forward to seeing you.