The NHS cancer screening programmes aim to detect breast, bowel and cervical cancers at an early stage (in asymptomatic people), when treatment is more likely to be effective and people have a chance to make informed decisions.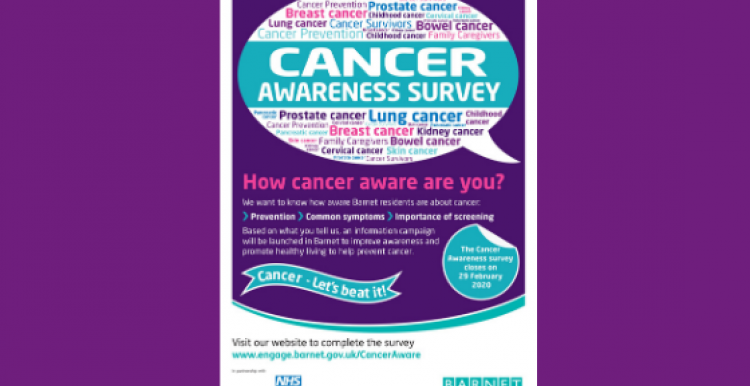 To take part in this survey please click on the link here. It will only take around five to ten minutes to complete.
For any further information, or to request a questionnaire in an alternative format, please email publichealth@Barnet.gov.uk
To help the Public Health Team at Barnet Council, Barnet's Clinical Commissioning Group (CCG) and their other partners, to improve public awareness of cancer and in particular how to detect cancer symptoms early, we are inviting Barnet residents to complete a survey on how much they know about potential cancer symptoms.
The findings of the survey will help inform the way the service providers can communicate with residents in the future to ensure you are better informed about what symptoms to look out for and how to reduce the risk of cancer.
The NHS Breast Cancer Screening Programme offers screening every three years to:
Women aged 50 to 70
 Bowel screening is offered to all men and women every two years aged 60 to 74
Cervical screening is offered to all women aged 25 to 64
 People over the routine screening ages are also able to request for a screen once they cease to be routinely invited when they reach the age respective age for each of the programmes. The national coverage target for breast and cervical screening is 80% and 60% for bowel screening.
Even though Barnet has the second-best uptake and coverage in NCL, this still falls behind the national and London average for Cervical Cancer, and the national average for Breast and Bowel Cancer.