Healthwatch Barnet would like to talk to you about Personal Health Budgets
Personalised care will benefit up to 2.5 million people by 2023/24. It tailors care and support, enabling people to have the confidence, knowledge and skills to engage in their care, and have choice and control over their mental and physical health.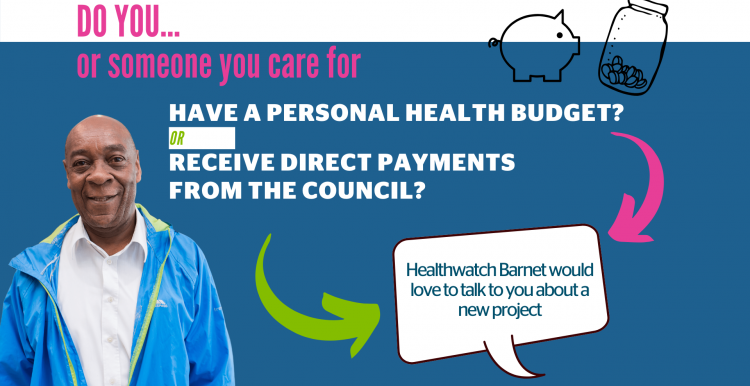 We would like to organise a focus group of people to help find out what is working for those who already have personal health budgets, and see how it can be improved.
People who already have a personal health budget or receive a direct payment for their social care needs, can either respond to our questionnaires or attend the focus groups that we will arrange.
Expenses incurred will be reimbursed and we will be able to provide incentives in the form of vouchers to compensate people for their time and thoughts. This is a small research project run by the CCG and will in no way affect any payments that the participants currently receive from the NHS or the council.
Please contact Healthwatch Barnet for more information and to take part.
call us on 020 8364 8400
What are personal health budgets?
A one-size-fits-all health and care system simply cannot meet the increasing complexity of people's needs and expectations. Personal health budgets are a way of personalising care, based around what matters to people and their individual strengths and needs.
 With a personal health budget, people work with their health (and where relevant social) care team to create a bespoke package of care designed to support their health and wellbeing needs. 

They are not new money, but a different way of spending health funding to meet the needs of an individual. Personalised care and support planning is an essential part of a personal health budget. This process enables people to identify their health and wellbeing goals, together with their local NHS team, and set out in a written plan how the budget will be spent to enable them to reach their goals and keep healthy and safe.