Getting your COVID Vaccine in Barnet: this week's update
The COVID-19 vaccine reduces household transmission by up to half. Find out where to get your jab in Barnet.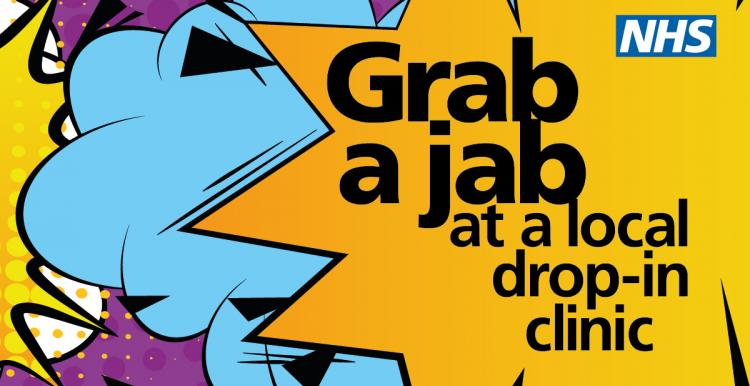 If you're 16 or over, you can now #GrabAJab at a walk-in clinic
People aged 16 – 17 can find a nearby walk-in clinic via the national grab a jab website. A list of North Central London walk-in clinics currently offering vaccinations to 16 and 17 year olds can also be found on the CCG website. The website will be updated as more sites becomes available.
It's important as many people in this age group as possible receive their vaccination before the school term begins. 
Vaccinating 12-17 year olds
In addition to 16 and 17 year olds, the Joint Committee on Vaccination and Immunisation (JCVI) now advises that the vaccine should be offered to:
children and young people aged 12 years and over with specific underlying health conditions that put them at risk of serious COVID-19
children and young people aged 12 years and over who live with someone with a suppressed immune system
Everyone over the age of 17 years and 9 months can also still book a COVID-19 vaccination appointment online or by calling 119.
Please take a lateral flow test before you attend for vaccination and don't go if you have any symptoms of COVID-19. Vaccinations cannot be given to COVID-19 positive residents.   
Book an appointment, or visit one of the walk-in clinics in Barnet:
StoneX stadium – Greenlands Lane, Hendon, NW4 1RL
Date and time: Daily (7 days a week), 9am-6:30pm
Walk-in, no booking required
Vaccine: Pfizer
1st doses and 2nd doses (minimum 8 weeks apart)
Open to people aged 16 and over
Mango Pharmacy – 98 High Street, Edgware, HA8 7HF
Date and time: Daily (7 days a week) 9:15am-12:45pm and 2:15pm-6:15 pm
Walk-in, no booking required
Vaccine: Pfizer and AstraZeneca (Pfizer only from 1st September onwards)
1st doses and 2nd doses (minimum 8 weeks apart)
Open to people aged 16 and over
Cullimore Chemist – 13-15 Glengall Road, Edgware, HA8 8TB
Date and time: Monday to Friday, 9am – 5pm; Saturday and Sunday, 9am – 3pm
Walk-ins welcome before 4pm on weekdays and before 2pm on weekends.
Vaccine: Pfizer and AstraZeneca
1st doses and 2nd doses (minimum 8 weeks apart)
Gateway Chemist – 334 Regents Park Road, N3 2LN
Date and time: Monday to Friday, 9:30am-12:30pm and 2.30pm – 5.30pm
Walk-in, no booking required
Vaccine: Pfizer and AstraZeneca
1st doses and 2nd doses (minimum 8 weeks apart)
Brand Russell Pharmacy – 280 East Barnet Road, EN4 8TD
Date and time: Check the pharmacy's Facebook page for latest information
Walk-in clinics sometimes available
Vaccine: Monday and Tuesday 10am – 12pm Pfizer / Wednesday 10am – 12pm AstraZeneca (check clinic details on Facebook)
First/second dose – Check clinic details on Facebook
Click on the button below for the latest list of walk-in clinics